The one of the most popular platforms is YouTube. With over 1.7 billion unique monthly visitors and these visitors spending an average of 19 minutes daily on YouTube. It is the significant reason why the video marketing is on the rise.
Here, we assure that you will learn about setting up your YouTube campaign as well to take your leads, sales and brand awareness to new heights. In this beginners blog guide, we will be discussing how you can set up and launch your very first YouTube Ads campaign. So, without any further ado, let's get started right away!
Related Read
Why Advertise on YouTube? What Are the Formats of YouTube Ads?
Table of Contents
#1 Link Google AdWords to Your YouTube Channel
The very first step is to link your Google Ads account to your YouTube account so that you seamlessly manage your YouTube ads from a familiar interface. Follow these simple steps and you will be done in no time.
Log in to your Google Ads account.
Select the "Tools" option from the top navigation bar.
Click "Linked accounts" under the Setup column.
Follow the prompts and add your YouTube channel.
#2 Choose Your Ad Objective
Everything will happen automatically once you set up your credentials. You can follow the same steps to link your Google Analytics account as well. It will be useful for retargeting and monitoring campaign analytics.
Now that you have successfully linked your YouTube account, it is time to create your first campaign. To do so:
Navigate back to the Google Ads dashboard.
Under the Campaigns tab, click the "+" button.
Now, select New Campaign.
On the next screen, you will see multiple goals and select the one that best suits your business needs. Think about why you want to run YouTube ads. Are you looking for more traffic and leads? Do you want to increase brand awareness and reach? Do you want to promote your app or products?
Once you decide your goal/objective, select the relevant options from the list. Then you will have to select the campaign type. From there, choose "Video" as the campaign type and click "Continue" to create the campaign.
Also Read
10 Tips on Setting Up Your Ad Campaigns with AdWords
#3 – Select Your YouTube Ad Format
There are multiple types of YouTube ad formats from which you can choose a relevant one for your campaign. Here are some of the commonly used formats: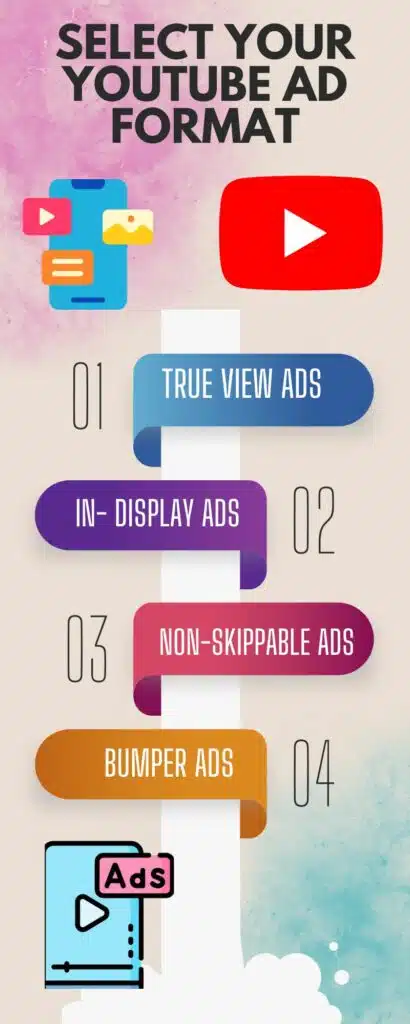 TrueView Ads – Runs before, during, or after the video. Perfect for boosting brand awareness. You would only if the viewers watch for at least 30 seconds or the whole video ad.
In-display Ads – These ads are very common and are displayed on the homepage, search results pages, and on the right-hand side of video recommendations.
Non-skippable In-Stream Ads – These ads are available only for Reach campaigns and the video can be 6-15 seconds long. These ads guarantee that viewers will see your complete message.
Bumper Ads – Video ads of six seconds or less in length can be used for bumper ads. Viewers can't skip these ads and you can also display these anywhere on Google Display Network (GDN).
So, based on your video length, budget, and the type of message that you want to deliver to your audience, you can select the YouTube ad format that best suits your goals.
#4 – Set Your Ad Budget & Bidding Strategy
After you are done selecting your ad format, give a name to your campaign and set the campaign budget along with the start and end dates. the average cost per view for a video ad on YouTube is $0.10. But, as there is competition, you will have to be smart with your bidding strategies.
We would recommend either using the maximum cost per view strategy or the target cost per view strategy. The difference is simple. In Maximum CPV, you fix the maximum amount you're willing to pay if users click on your ad. In Target CPV, you decide on an average amount that you're willing to pay for your conversions.
There are more bidding options as well and if you want to choose something similar to automatic bidding, then you can go for the Maximize Conversions option. But, this may result in higher costs. So, choose wisely as per your budget and goals.
#5 – Choose Where You Want to Display Your Ads
In this step, you will see three options from which will determine where your ads will be shown. These options are:
YouTube Search Results
YouTube Videos
Video Partners on the Display Network (run on 3rd party network sites)
Apart from this option, you can choose the locations and languages you want to target. Finally, you will have to select the Inventory Type. This setting allows you to control the type of content that you want your ads to be displayed amongst. There are three options for this:
Expanded Inventory (maximum reach and ads might run with sensitive content)
Standard Inventory (YouTube recommended setting but might display your ads with violent or language-inappropriate videos)
Limited Inventory (best choice if you don't want to associate your brand with any sensitive content)
You can then even refine where your ads will be displayed by excluding certain content types and labels.
#6 – Define Your Target Audience
Just like Google, YouTube also has a good set of advanced targeting options so that you can create different sets of audiences for your ad types. Below are the targeting options you can get.
Demographics Targeting (targeting based on age, gender, marital status, etc.)
Affinity and Custom Affinity Targeting (targeting based on audience's interests)
In-Market, Live Events, and Custom Intent Targeting (targeting based on user's readiness)
Remarketing and Similar Audiences Targeting (targeting engaged users)
Based on your goals, you can go through each option and choose the ones that you feel are your target audience. Spend proper time and discuss this with your team before choosing the right group of audiences.
#7 – Add Keywords, Topics, and Placements
Now, you have these three settings to narrow your reach. The word "keywords" defined as "The phrases and keywords where you want your ads to be displayed". It wil be helpful for the users to seach their own desired videos.
Just add the keywords and relevant topics, and YouTube will do the rest. Your ads will be inserted into the most relevant content. As for the placement, you can target where exactly you want to display your ads. You can select the specific YouTube channels, videos, websites, apps, and more.
#8 – Set the Bid Amount & Select Your Video
In step 4, you selected your bidding strategy. Now it is time to set your bids. For example, if you selected Target CPV, then the bid will be directly proportional to the ad's performance. Analyze the amount you want to spend and align it with your bidding strategy to decide the bid amount.
Once you choose this, it is time to select the video you want to use for your ad. You can use the search box to find the video or can paste the video URL. Your work here is done. Your first YouTube ad campaign is now live!
Suggested Read
Spotify Advertising: Is It Right for You?
Frequently Asked Questions
What are the simple steps to link Google AdWords to your YouTube Channel
1. Log in to your Google Ad account
2. Select the "Tools option from the top navigation bar.
3. Click "Linked accounts" under the setup column.
4. Follow the prompts and add your YouTube channel.
How to create a new Ad Campaign?
There are three steps to be followed to create your first ad campaign.
1. Navigate back to the Google Ads dashboard.
2. Under the Campaigns tab, click the "+" button.
3. Now, select New Campaign.
What are the targeting options in YouTube to find different sets of audiences?
1. Demographics Targeting
2. Affinity and Custom Affinity Targeting
3. In-Market, Live Events, and Custom Intent Targeting.
4. Remarketing and similar Audiences Targeting.
Time to Skyrocket Your Brand Presence With YouTube Ads!
YouTube is the second most popular search engine and one of the biggest social platforms that provide you with the opportunity to boost your business. Now that you know how to set up a YouTube ads campaign, it is time to get your strategies in place.
Make sure to constantly monitor your ads performance and come up with changes in your strategies plus videos to see improvements in results. Have a great time advertising on YouTube!